Almost two thousand monks live ôïday on Mt Athos, in monasteries, hermitages and tetreats. Mt Athos, the Holy Mountain, is dedicated to the Mother of God and is fre quently referred to as the "Garden of the Virgin".
The pupils of the Athonias Academy are not obliged to seek ordination.
In recent yeas there has been a marked turn to monasticism.
Numerous are the young men, frequntly university graduates, from Greece and abroad, who go to Mt Athos and live there the ascetic life.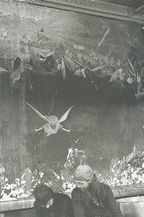 Confession and Revelation.
St. Panteleimon Monastery, 1992