There are approximately 1.2. million square feet of frescoes on Mt Athos.
The pictorial decoration of a shurch is disciplined by strict rules and creates an environment divorced from the randomness of the physical environment, an environment that underpins the ascetic struggle of monks.
It is prayer that constitutes the cornerstone of tis struggle every day tasks and duties, the offices, aid monks in praying.
Monks and monasteries are strangers to this world and at the same time offer their generous hospitality to the world. Monks and laymer eat together at the refectory. The positioning and pictorial decoration of the refectory are in the image of the curch, an affirmative nod to the necessity of matter.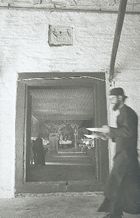 A Monk at his Office. Pantokratoros Monastery, 1992