Communally or in solitary, a monk lives alone.
His task is to descern the unity of all things, to bring them to the One the Trinitarian Godhead. A life enclosed within monastery walls is punctuated by feast -days of Saints and litanies of household icons, in consecration of the surrouding world.
Monasteries frequently make use of technological innovation.
The installation of a hydroelectric power unit was assusted by a helicopter.
Monks live in harmony with nature because they are able to discern the Creator behind the creation. At the same time, they live estranged from nature in order to transcend nature and bring about its reversal.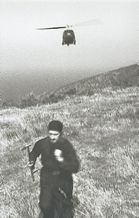 Assistance from Above.
Simonos Petras Monastery,
1992