When a novice is tonsoured, becomes afather and also a child, a child of the Heavenly Father, whose image a monk sees in his elder.
Obedience to the elder is a cardinal virtue and a weapon in the struggle of monks to overcome the selfishness that led to the fall from Eden.
A monk is buried wrapped in his habits. Three years later his relics
ar translated and placed in the ossuary next to those of fellow monks who died before him.
A monastery is not simply the visible edifice it is also what the relics of monks who have lived there over the centuries constuct.
What serves as mortar and assembles them together is memory.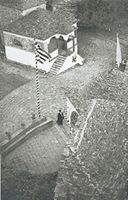 Entrance to the Monastery.
Vatopaidiou Monastery, 1992